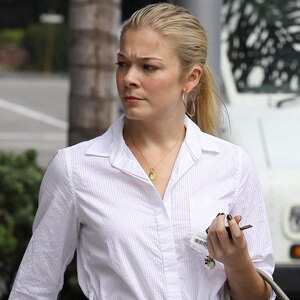 LeAnn Rimes is confused.

Why, she wondered via Twitter today, is Shape throwing her a party next week and apologizing to readers for her cover story at the same time?

"Just so all my fans know, I'm getting to the bottom of this. It's the first I've heard of this," Rimes wrote, responding to news that the magazine's editor-in-chief, Valerie Latona, had written a mass email acknowledging that some subscribers thought it "a terrible mistake" to have Rimes on the October cover.

"Shape is throwing me a party next week as a thank you and a congrats for being on their cover for the 3rd time. I find this very contradictory," the singer continued.

It turns out she needn't worry about any sniping going on behind her back at Shape.

"I stand by the fact that LeAnn's story is compelling—and her courage and strength in the face of so much adversity is compelling," Latona, who complained that her words were taken out of context by the media, said in a statement. "That is why I put her on the cover of Shape for what is now the third time.

"The fact is a mere 40 readers out of almost 6 million readers wrote in to complain calling LeAnn a 'husband stealer' and a 'terrible mistake for Shape'. I wrote to those women apologizing that our cover choice did not make them happy—as I have done for other cover stars in the past."

Rimes apparently caught onto the mix-up later, tweeting: "I'm amazed daily by the media. Facts are stated and they STILL can't report the truth. The truth could hit them smack in the face and they would twist it. It's actually hysterical to me and terribly disturbing what lies we are fed daily."

Source: E!