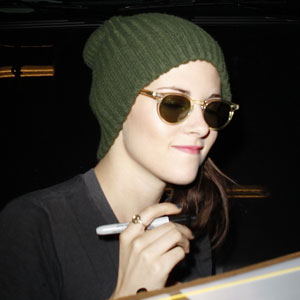 "It's strange when you become a novelty...It's sort of like, 'Yeah, sure. Go put this on your Facebook so your friends can laugh at it.' And I usually say no to people like that, when they're like, 'Yo, yo, can I get a picture of you?' And it's like, 'No...you [#$*!].' That's what I'm thinking."
—Kristen Stewart chatting with the L.A. Times recently about getting recognized when she's out and about

The article notes how cool and calm Stewart was during the interview until a guy (we wouldn't even say fan since he had to ask her full name) noticed her and asked to get a picture for his girlfriend.

Isn't that why we love this girl—for saying what every other celeb in the world wishes they had the guts to admit?

Whatever, nice of K.Stew to oblige the common folk, but we think she does it with a little more heart when they are real fans.

Source: E!